Instructions for purchasing airfare:
Employee Airline Reservations
Topic
Conditions/Instructions
Use AggieTravel

Book with ConnexUC partners

The travel agencies within the ConnexUC program offer access to the university's negotiated travel rates with airlines, cars and hotels. 

For guest travelers (non-employees), see Non-Employee Airline Reservations below.

Other Considerations

Fly direct when possible.
Chartered flights require pre-approval from the Chancellor.
Private aircraft operated by UC employees (or family) require pre-approval from the Chancellor.
Tickets classified as economy/coach class are allowed, including economy-premium, -plus, -elite or similar label.
When combining a personal trip with a business trip, be sure to obtain a comparable airfare at the time of booking using the dates you would have traveled if strictly on business.
Ancillary fees charged by airlines (i.e., seat assignment, excess baggage) are reimbursable with a reasonable business-related justification.
If you choose to drive to a destination normally traveled to via air, pre-approval should be sought and a written statement explaining the circumstances will be expected for reimbursement. You will be reimbursed the lesser of mileage based on the most direct route or an amount equal to the cost of flying coach/economy with advance booking.

Business or First Class

The cost of airfare should be the lowest available commensurate with the requirements and itinerary of the trip.
These airfares always require an exception to policy and are only permitted in the following circumstances:

Lowest cost
Medical
Circuitous routing
Red eye flights with required work upon arrival

See the 

Airfare Exception form

 (PDF) for more details.

Cancellation & Refunds

Balance the chance that a trip will be canceled or changed to a different date against achievable savings from using penalty and non-refundable fares.
Trip cancellation insurance should only be purchased if non-refundable airfare is significantly less expensive and there is a high likelihood of the trip being canceled.
Refundable airfare is allowed, but the most economical airfare should be selected in most cases.

Loyalty Programs

Points and mile redemption are not reimbursable.
Package airfare, lodging, and/or car rental deals are not permitted.

Travel Agents

When working with a travel agency, advise the agent when you are flexible about your departure and return times to increase your likelihood of getting an economical fare.
When working with a local travel agent, request that your travel be paid with the campus Preferred Booking Program direct billed account or your Travel card to eliminate the need for you to spend your own money out-of-pocket.

Reporting

Paid receipts are required for all airfare and must show the amount paid, the departure dates, locations, and class of service.
All airfare should be reconciled through AggieTravel within 45 days of the trip's end date.

If using the Preferred Booking Program payment option, airfare should be reconciled in advance of the trip.

Exceptions

Questions about exceptions should be directed to travelhelp@ucdavis.edu

– include the report name, key, traveler name, and detailed explanation of your question or request.
---
Instructions for Making Reservations for Guest Travelers: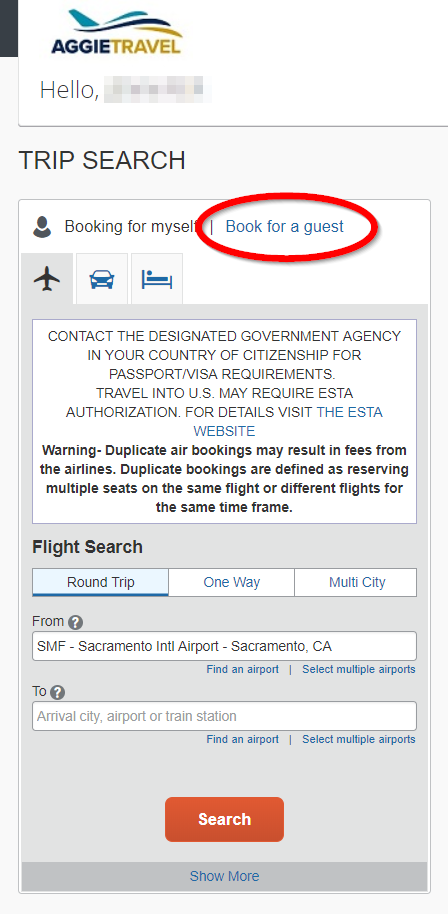 When using the Preferred Booking Program direct bill option for guest travelers, university employees should make airline reservations for all guests traveling on behalf of the university using AggieTravel. Simply choose the Book for a Guest option. Due to heightened security and access controls, guest's access to book their own travel directly with BCD is being restricted.
If the guest needs to make a change to their itinerary, they may contact BCD Travel directly by phone (877-885-8632 option 3). Please note: all applicable fees will be charged.
Alternatively, guests may make their own airline reservations and receive reimbursement after the conclusion of the trip. Trips booked outside of BCD Travel should be registered with UC Away.