An expense report is created by completing the Report Header page in AggieTravel.
In the upper right corner of the AggieTravel home page:
Hover your mouse over the New button.
Select Start a Report.
---
Report Header
On the Report Header page, use the Event/Trip Type dropdown and select the appropriate report type. See Report Types for an explanation of the reporting options.
Policy:

The default setting of T&E/Prof Expenses should be used for all travel, entertainment, and professional expense reports. Change this dropdown to PCard to create a report to reconcile procurement card charges. If creating a PCard report, please go here for more information. 

Event/Trip Name:

Name your expense report for tracking and reporting purposes.

Event/Trip Purpose:

This field identifies your role or high-level purpose for completing the trip.  From the drop-down menu, select the most appropriate option listed for your event/trip.  In the Business Purpose field (described next), you will be entering specific details on how the trip benefited the university.

Business Purpose

The Business Purpose must clearly and fully indicate how the travel supports one of the university's major functions of teaching, research, patient care, or public service. Click for examples.

Exception requested: spouse/partner or other traveler(s) expenses included on report.

​​​​​​​If reimbursable expenses for another employee, guest, or a spouse/partner are included on the report, choose yes and in the comments provide an explanation of why the expense is on your report. The report will automatically route for Exception approval.

Full Email address for the report preparer.

​​​​​​​If approvers have questions about a report, this is who they will ask.

Select a Reimbursement Method.
Enter any necessary additional Comments.
Enter any Related Report numbers into the field provided.

​​​​​​​If there are more than three related reports, use the Comments section.
---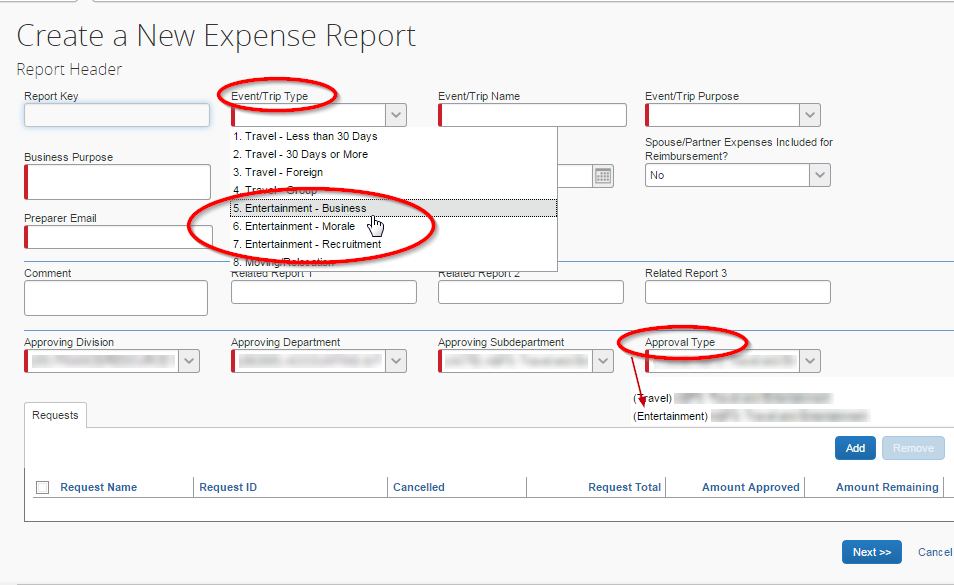 Report-Specific Fields
Travel Reports
Travel report types require the start and end times of the trip. This is the time you left your home base, either work or home. For clarification on which to choose, please see UCOP Travel Policy G-28.
Entertainment Reports
Entertainment report types have two specific requirements:
The Host Name must be entered on the report header
The Approval Type must be changed to Entertainment
Moving/Relocation
Reports
Moving/Relocation reports require the appropriate policy be selected. See Relocation for more information.