AggieLogistics provides the ability to track inbound and outbound shipments, gas cylinder rentals and returns, and request many other Supply Chain Management services!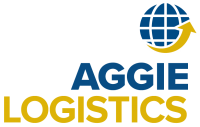 AggieLogistics is available to employees at the main Davis campus, Health, and Agricultural and Natural Resources (ANR).
---
Logging In
In the upper right corner, click the Log In link.
Click the Log In with UC Davis Login button to log in with your UC Davis login and Kerberos passphrase. The username and password fields on the login page should not be used, as this will result in an error message.
---
Automated System Emails
AggieLogistics alerts customers via automated emails at significant points in the delivery route; for example when an item has arrived at Central Receiving or is delivered to its final destination. The email contains a link to the AggieLogistics portal, where the "My Items" tile will provide additional details on each item and its delivery status.
If you would prefer to read the email notifications at your convenience, we recommend setting up a rule in Outlook or your chosen email platform to filter the automated emails to a new mailbox. This makes it easier to review the messages whenever you like!
---
Item Tracking
The first module released in AggieLogistics, Item Tracking, allows customers to check the status of inbound and outbound items, such as packages, mail and freight.   This module went LIVE on Monday, March 1, 2021.
---
Special Messenger Request
This module allows customers to request and track Special Messenger services. This module went LIVE on Tuesday, July 5, 2021.
---
Gas Cylinder Rental Tracking and Return
These modules allow customers to track current gas cylinders rented by their department, as well as process gas cylinder returns.
These modules went LIVE on Monday, October 4, 2021.
---
AggieSurplus and Services Request Form
Initiate an AggieSurplus & Services Form in AggieLogistics for the following services:
    Lab/Office Moves

    Recycle/Disposal of Equipment/Office Items

    Freight/Rental Equipment Delivery/Pick-Up

    General Labor

    Furniture Installation/Reconfiguration
Log in to

AggieLogistics

.
Select the

AggieSurplus & Services Form

tile.

Fill out the form completely.
If applicable, attach the

AggieSurplus Pick-Up Request Spreadsheet

for identifying items for which AggieSurplus services are requested.  To make sure your request is processed as quickly as possible, please complete all line items.  Areas shaded in grey are for AggieSurplus use only.  Include asset numbers, if applicable, and size dimensions, if items are oversized. 

Other documents (e.g., Furniture Design Plans, etc.) can be electronically attached instead of having to be emailed separately.
Click

Submit

. 
Your request will then route to the fiscal officer assigned to cited account for approval. After the fiscal officer has approved the request, it will route to AggieSurplus & Services.  They will reach out to schedule your request.

Customers will now have a single point of contact when working with AggieSurplus and Special Services.
New Form Feature: Fiscal Routing!
A new feature will be fiscal approval routing. Once you place your request, an email notification will be sent to the fiscal officer for approval. The email will include a link to approve or disapprove the request, as well as the Request ID that can be searched in AggieLogistics for further request details.
Note: Pricing will not be available when the request is routed for fiscal approval, and the request cannot be scheduled until approved by the fiscal officer. You may wish to refer to the rates to determine the approximate cost of the requested service.
System Notifications
Customer will receive an email confirming t

he date the job is scheduled
Checking Status of Requests
Customers can view the progress or recap of their jobs via the My Items tile. You can also search by the specific job number (SSXXXXXX).
The AggieSurplus and Services Form went live in AggieLogistics on Monday, November 8, 2021.
---
Equipment Rental
This module allows customers to request and track office chair rentals and special event supply rentals. This module went LIVE on Monday, December 20, 2021.
---
Additional Future Modules to be Released
The following modules will be released at a later time, to be announced.
Confidential Shred

Application for Storage Account/Document Storage

Cap and Gown Rental

Microscope Rental/Repair

Bulk Mail Work Request
---
Questions?
Please contact aggielogistics@ucdavis.edu, and we will be happy to assist.
This information page will continue to be updated as the system roll-out continues to take place.  We appreciate your support and believe that this platform will make your logistics planning and tracking easier and more effective.