AggieLogistics provides the ability to track inbound and outbound shipments, gas cylinder rentals and returns, and will eventually incorporate many other Supply Chain Management services as well!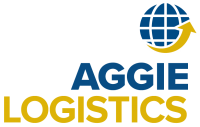 AggieLogistics is available to employees at the main Davis campus, Health, and Agricultural and Natural Resources (ANR).
---
Logging In
Click the Log in with UC Davis Login button to access AggieLogistics with your UC Davis login and Kerberos passphrase. 
The username and password fields on the login page should not be used, as they will result in an error message.
---
Automated System Emails
AggieLogistics alerts customers via automated emails at significant points in the delivery route; for example when an item has arrived at Central Receiving or is delivered to its final destination. The email contains a link to the AggieLogistics portal, where the "My Items" tile will provide additional details on each item and its delivery status.
If you would prefer to read the email notifications at your convenience, we recommend setting up a rule in Outlook or your chosen email platform to filter the automated emails to a new mailbox. This makes it easier to review the messages whenever you like!
---
Item Tracking
The first module released in AggieLogistics, Item Tracking, allows customers to check the status of inbound and outbound items, such as packages, mail and freight.   This module went LIVE on Monday, March 1, 2021.
---
Special Messenger Request
This module allows customers to request and track Special Messenger services. This module went LIVE on Tuesday, July 5, 2021.
---
Gas Cylinder Rental Tracking and Return
These modules allow customers to track current gas cylinders rented by their department, as well as process gas cylinder returns.
These modules went LIVE on Monday, October 4, 2021.
---
COMING SOON! AggieSurplus and Special Services Request Form
The AggieSurplus & (Special) Services form is coming soon to AggieLogistics! This form combines both AggieSurplus and Special Services requests in one place.
Services provided include:
Lab/Office Moves

Recycle/Disposal of Equipment/Office Items

Freight/Rental Equipment Delivery/Pick-Up

General Labor

Furniture Installation/Reconfiguration
This form will gather the detailed information needed to complete your request as efficiently as possible. Along with drop-downs and Yes/No questions, it will also allow you to enter any specific information regarding your request in free-form fields and attachments.
The status of the AggieSurplus & Services form will be viewable using the My Items tile on the AggieLogistics home page.
New Form Feature: Fiscal Routing!
One new feature will be fiscal approval routing. Once you place your request, an email notification will be sent to your fiscal officer for approval. The email will include a link to approve or disapprove the request, as well as the Request ID that can be searched in AggieLogistics for further request details. After the fiscal officer has approved the request, it will route to the appropriate unit (AggieSurplus, Special Services) for request fulfillment.  Note: Pricing will not be available when the request is routed for fiscal approval, and the request cannot be scheduled until approved by the fiscal officer.
---
Additional Future Modules to be Released
The following modules will be released at a later time, to be announced.
Equipment Rental

Confidential Shred

Application for Storage Account/Document Storage

Cap and Gown Rental

Microscope Rental/Repair

Bulk Mail Work Request
---
Questions?
Please contact aggielogistics@ucdavis.edu, and we will be happy to assist.
This information page will continue to be updated as the system roll-out continues to take place.  We appreciate your support and believe that this new platform will make your logistics planning and tracking easier and more effective.