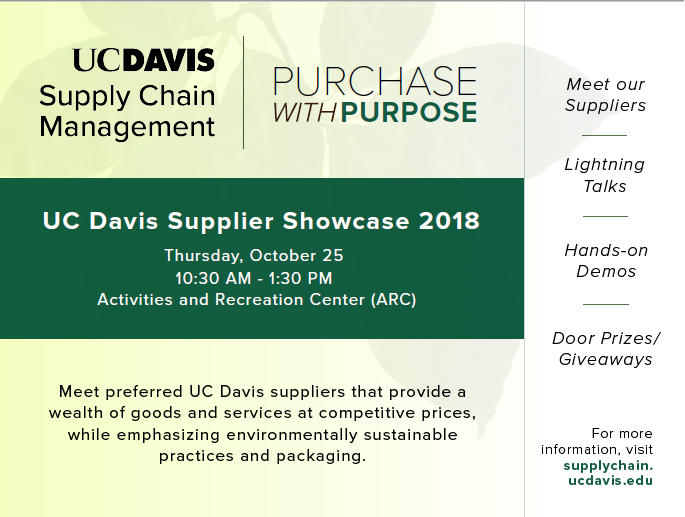 THANKS to everyone who participated in this year's Supplier Showcase!  We hope it was a productive and enjoyable event for you.
Many of the university agreement suppliers were in attendance, including our current (and upcoming) AggieBuy suppliers.
Suppliers discussed ways that they can meet your departmental office, research, and academic needs!
Lightning Talks (PDFs of presentations posted below where available)
Business and Revenue Contracts: Making it Easier to Get Your Contracts Done!

Million Bulb Challenge: Utilizing New Ways to Light Up Your Life!

Sunbelt and Sustainability
Suppliers In Attendance
Amazon

Aramark

Bio Rad

CDWG

Corning

Dell

EPlus

Eppendorf

Fastenal

Fisher Scientific

Genesee Scientific

Grainger

Horizon Discovery (Dharmacon)

Life Technologies

Main Street Tech

Medline

Millipore Sigma

Neta Scientific

New England Biolabs

Office Depot

Qiagen

Rainin

Steelcase/UCF

Sylvania

Sunbelt Controls

UC Davis Stores

VWR

Waxie
Campus Service Providers Were Also There!
AggieBuy
AggieSurplus
AggieTravel
Banking Card Programs (Travel Card and Procurement Card)
Furniture Program
Repro Graphics
Procurement and Contracting Services
Shared Services Organization
Sustainability
See you again in 2019!