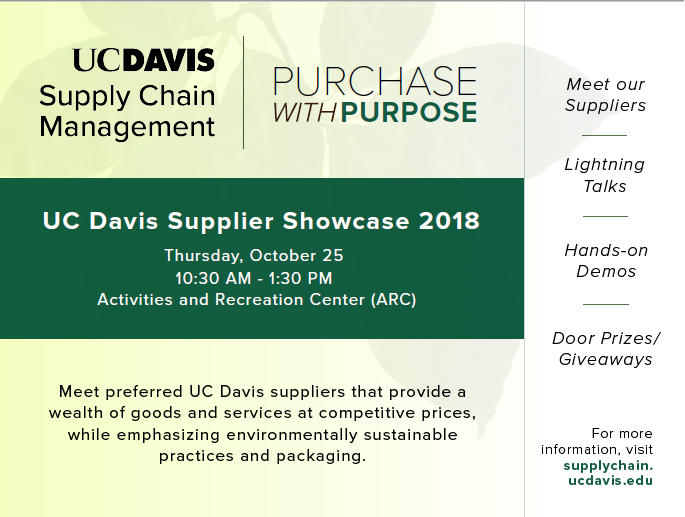 October is Campus Sustainability Month, a month dedicated to ensuring that the actions we make are based on the best information available and have the least impact on our environment, while meeting the teaching and research needs of the university. 
And, just recently announced, Princeton Review's Guide to Green Colleges has ranked UC Davis 11th in the nation as a Green College!  There couldn't be a more "perfect" time to showcase what UC Davis Supply Chain Management and our suppliers are doing to promote sustainability.
The Supplier Showcase, to be held on Thursday, October 25th from 10:30am to 1:30pm at the Activities and Recreation Center (Map), will have an emphasis on Campus Sustainability, and how the university suppliers, products, and services are committed to meeting or exceeding the sustainability goals of the university.
Many of the university agreement suppliers will be in attendance, including our current (and upcoming) AggieBuy suppliers.
Speak with the supplier representatives to learn all about the types of product offerings available.
Learn how the suppliers can meet your departmental office, research, and academic needs!
Come with your list of questions and get the answers you're looking for!
Amazon

Aramark

Bio Rad

CDWG

Corning

Dell

EPlus

Eppendorf

Fastenal

Fisher Scientific

Genesee Scientific

Grainger

HD Supply

Horizon Discovery (Dharmacon)

Life Technologies

Main Street Tech

Medline

Millipore Sigma

Neta Scientific

New England Biolabs

Office Depot

Qiagen

Rainin

Steelcase/UCF

Sylvania

Sunbelt Controls

UC Davis Stores

VWR

Waxie
AggieBuy
AggieShip/Special Services
Aggie Surplus
AggieTravel
Banking Card Programs (Travel Card and Procurement Card)
Furniture Program
Repro Graphics
Procurement and Contracting Services
Shared Services Organization
Sustainability
AggieBuy: Hot Topics!

AggieShip: How Will This Upcoming System Benefit You?

Aggie Surplus:

:

Shop green and help support reuse on campus!

Business and Revenue Contracts: Making it Easier to Get Your Contracts Done!

Controlled Substances: Proper Ordering Procedures

Corning and Sustainability

Furniture Program:

: Purchasing Best Practices

Medline and Sustainability

Million Bulb Challenge: Utilizing New Ways to Light Up Your Life!

Sunbelt and Sustainability

Travel Card: What Is It and How Can It Benefit You?
Plan now to attend the event that will make your university procurement easier to navigate and as sustainable as possible!