Welcome to AggieBuy!
March 2020: Refer to the Coronavirus (COVID-19) page for updates on AggieBuy product availability and what we are doing to assist at this time.
An
updated user interface is coming to AggieBuy
in April, including updates to the Main Dashboard and a new shipping address request process!  These changes will streamline the screens, and make it easier to locate and shop for products, and by specific suppliers.  In addition, a new streamlined process for submitting no-cost agreements to Procurement & Contracting Services will be introduced!
It's the easiest way to buy directly from contracted suppliers, complete with automatic payments

It's the most streamlined purchasing process on campus, with the lowest overhead cost per transaction (see chart below comparing it with the other purchasing methods of using the Kuali Financial System and the Procurement Card)

It contains more than 30 of the most popular suppliers

It has lab essentials and medical supplies, computing equipment and peripherals, office supplies, furniture, and more!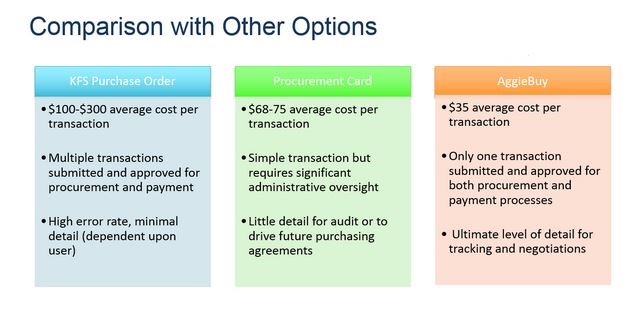 Benefits of E-Commerce
Better procurement data means better negotiating power with suppliers

Less time shopping and price comparing

Compliance with policies

Financial approvals before purchase

E-Invoicing is efficient for everyone, including buyers, suppliers, and central Accounts Payable team