Amazon Business in AggieBuy is a punch-out catalog and not quite the same as the Amazon catalog you might use for your personal purchasing, but offers you the ability to purchase a deeper and wider selection of items in AggieBuy.
---
How Does It Work?
The Amazon Business catalog identifies "preferred" items for UC Davis departments. Items that should not be purchased from Amazon are identified as "blocked," along with an advisory message indicating the AggieBuy supplier who sells the desired item. Users will be required to manually enter Commodity Codes for many of the items purchased from Amazon.
---
Getting Started: Amazon User Profile
 Log in to AggieBuy at http://aggiebuy.ucdavis.edu.   Do not log in directly to the public-facing Amazon website.
 Under the Punch-Out Suppliers section on the main dashboard, click on the AggieBuy tile to access the Amazon punch-out.  Pop-ups must be enabled in order to use the Amazon punch-out site (pop-up enable instructions for Chrome and FireFox)
 When you access the Amazon Business punch-out in AggieBuy for the first time, you will be required to set up your customer profile if you haven't used Amazon before, or to update your Amazon profile to be associated with your current email account.   Your "@ucdavis.edu" email account should be used for your Amazon Business purchases in AggieBuy, and NOT a personal email account.
---
Amazon Purchases Should Be Made in AggieBuy
AggieBuy should be used for all of your Amazon-related purchases. Amazon purchases should NOT be processed on a Procurement Card or in the Kuali Financial System (KFS).  Amazon can also be used to purchase from Small and Diverse Businesses.
---
AggieBuy FAQ
Do all AggieBuy users need to register on the Amazon punch-out site?

No, only users who are going to shop the Amazon site need to register for a user account with Amazon. If you aren't planning to use Amazon, or if you are an approver who doesn't do any shopping,  you aren't required to set up an Amazon account.
Do AggieBuy Window Shoppers need to register on the Amazon punch-out site?

Yes! All AggieBuy users who plan to shop Amazon will need to register and set up an Amazon account.
Is shopping in Amazon in AggieBuy restricted to Fulfilled by Amazon items?

Both Fulfilled by Amazon items and third-party seller items are available.
Is the website address for a product the same in Amazon Business as it is in the consumer site?

No, the website addresses are different.  This means that links to the consumer site are not directly usable in the punchout. You can search for the product in both sites by the ASIN (Amazon Standard Identification Number) in the product description field.
Does checking out work the same way in Amazon in AggieBuy?
Like other AggieBuy punch-out sites, you do not enter payment information in the Amazon punch-out screen. When you get to the Amazon Shipping & Payment screen please ignore the Reference number and Payment options (as shown in the screenshot below), and hit Continue.  Shipping addresses should be selected and entered in AggieBuy, and not in the Amazon punch-out (addresses entered in the Amazon Punch-out will be ignored).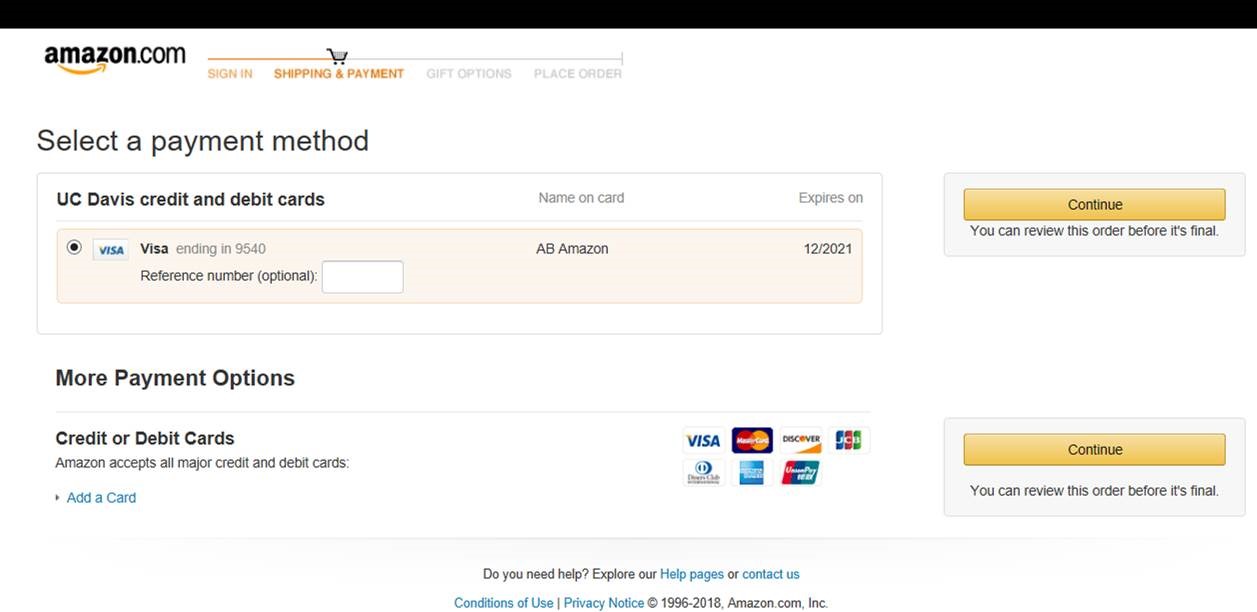 Does Amazon in AggieBuy include Prime shipping?
Yes! Business Prime is included with our Amazon contract.  Keep in mind that many, but not all, items have an option for Prime or free shipping.  However, items in the Amazon catalog being sold from third-party sellers generally do not include free shipping. It is important to confirm the shipping costs if purchasing from a third-party seller; in some cases, the cost of the shipping may exceed the cost of the item.  There are most likely less expensive options available with an Amazon-fulfilled order, or with the use of another catalog in AggieBuy.
I don't recognize the default shipping address listed in the Amazon punch-out in AggieBuy.  Do I need to change it?

No.  The address listed in the Amazon punch-out is NOT used for delivery purposes.   The address section in AggieBuy which is available in the Shipping section when checking out a cart can be used to update your shipping address.


How are shipments from Amazon in AggieBuy delivered?
Shipments are delivered just like all other AggieBuy orders. There is no centralized receiving for Amazon in AggieBuy orders.  Keep in mind that

packages routed through campus mail services may take longer to deliver.
What about Weekend or Holiday delivery?
Our university agreement with Amazon specifies University operating hours and Holidays.  The agreement stipulates that deliveries should not be attempted outside of established operating hours. Please let us know at ab-help@ucdavis.edu if you have delivery issues.
Can shipments be directed to the Amazon lockers on campus?
At this time, Amazon Business cannot direct shipments to the campus Amazon lockers. The Amazon@UC Davis location in the UC Davis Bookstore can be used to return AggieBuy Amazon orders, however.
When I return my Amazon cart to AggieBuy, I'm seeing a blank screen with a warning that the pop-up will open in a new window. What should I do now?
In the upper right corner of the screen is a Cancel PunchOut button.  Click on that button to close the window to return to the main AggieBuy main dashboard. 
What happens if the price changes after we've added the item to our cart?

Once an Amazon order has been brought back into an AggieBuy cart there is a 7 calendar day price lock. Given that the majority of AggieBuy orders are approved within 24 hours, we anticipate that this will be sufficient for most users.
A commodity code did not default in AggieBuy for the Amazon item(s) I selected.  What do I need to do to resolve this issue?
Occasionally a commodity code will not default, especially if selecting items that are being fulfilled by third-party sellers.  The screenshot below indicates what needs to be done to complete the commodity code field: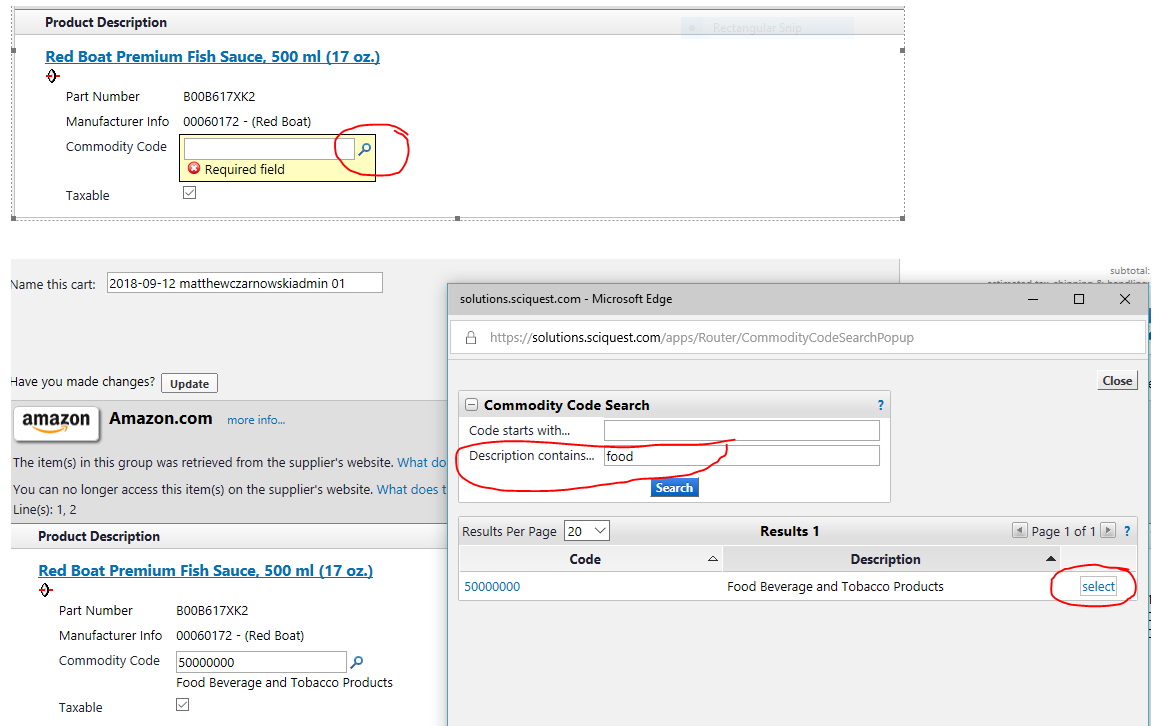 Does Amazon in AggieBuy require additional approvals for orders?
Amazon in AggieBuy orders route for fiscal approval just like every other AggieBuy order. There are no additional required approvals.
---
Contact Information
For AggieBuy System issues: ab-help@ucdavis.edu

For Order Help:

Please use the Contact Us link at the bottom of the Amazon punchout page to contact Amazon Business Customer Service. You can then email, chat, or request that they call you.

NOTE: We  discourage users from calling the 1-888 number, as this will require you to verify that you are part of the UC Davis Amazon in AggieBuy group, and will be an unnecessary hassle compared to using the punchout link.