The University of California is committed to working with small and diverse businesses. 

This information page offers ways to utilize small and diverse businesses, as well as the benefits of doing so.
---
UC Commitment to Small and Diverse Businesses: Small Business First
Wherever practicable, UC contracts and procurement between $10,000 and $250,000 must be awarded to a certified small or diverse business, veteran, or disadvantaged business.  This is part of the new UC Small Business First program.
The i
nformal solicitation process
for Small Business First requires
:
One quote for purchases below $100,000

Two quotes for procurement between $100,000 and $250,000
There is a waiver process when the Small Business First program is not feasible, or when contracting with businesses other than a certified small or disadvantaged business is justified.
---
Benefits of Using Small and Diverse Businesses
The money spent with the small and diverse supplier community goes back into the local community. By supporting these types of businesses, you are also supporting local community infrastructure, including parks, schools, and roads.  The money spent locally stays local.
In some cases, a small and diverse supplier can more quickly fulfill a purchasing request than a larger supplier, and may also fulfill purchasing needs that cannot be met by other types of suppliers.
---
Purchases Exempt from UC Small Business First Program
Purchases that are sole sourced, unique professional services, and emergency purchases

Purchases through an existing strategically-sourced agreement

Design and construction

Revenue/reimbursement contracts

Federal

government

/ local

government

/ inter-agency agreements

Research sub-awards

Higher education institution agreements

Refreshments

Statutorily-exempt, policy exempt, emergency, proprietary, local assistance/subvention

Federally-funded purchases

Supplies and materials

used in patient care
---
How You Can Support Small and Diverse Businesses
There are several ways to search for and support small and diverse businesses, including the following:
1.  Shop Small and Diverse Businesses in AggieBuy!  There are two ways to do this in AggieBuy:
--The first way is on the AggieBuy main dashboard, under the Product Search section, click on the 3 dots above the search field:

Then, click on Suppliers under the Browse header. 

On the AggieBuy Suppliers screen list, there are several indicators under the Preference column that indicate if the supplier is a certified small or diverse business.
MBE: Minority Business Enterprise
SBE: Small Business Enterprise
WBE: Women Business Enterprise
At this time, the following AggieBuy suppliers are certified small and/or diverse suppliers:
Genesee Scientific: SBE
Main Street Technologies: SBE, WBE
Neta Scientific: SBE, MBE, WBE
--The second way to shop small and diverse businesses in AggieBuy is in Amazon.  On the main dashboard, click on the Amazon tile in the Showcases section.  Once the Amazon punch-out window opens, you can narrow product searches to one or more more small and diverse business types by selecting them from the left menu.  These items will then appear in your search results, with the Organization Preferred designation.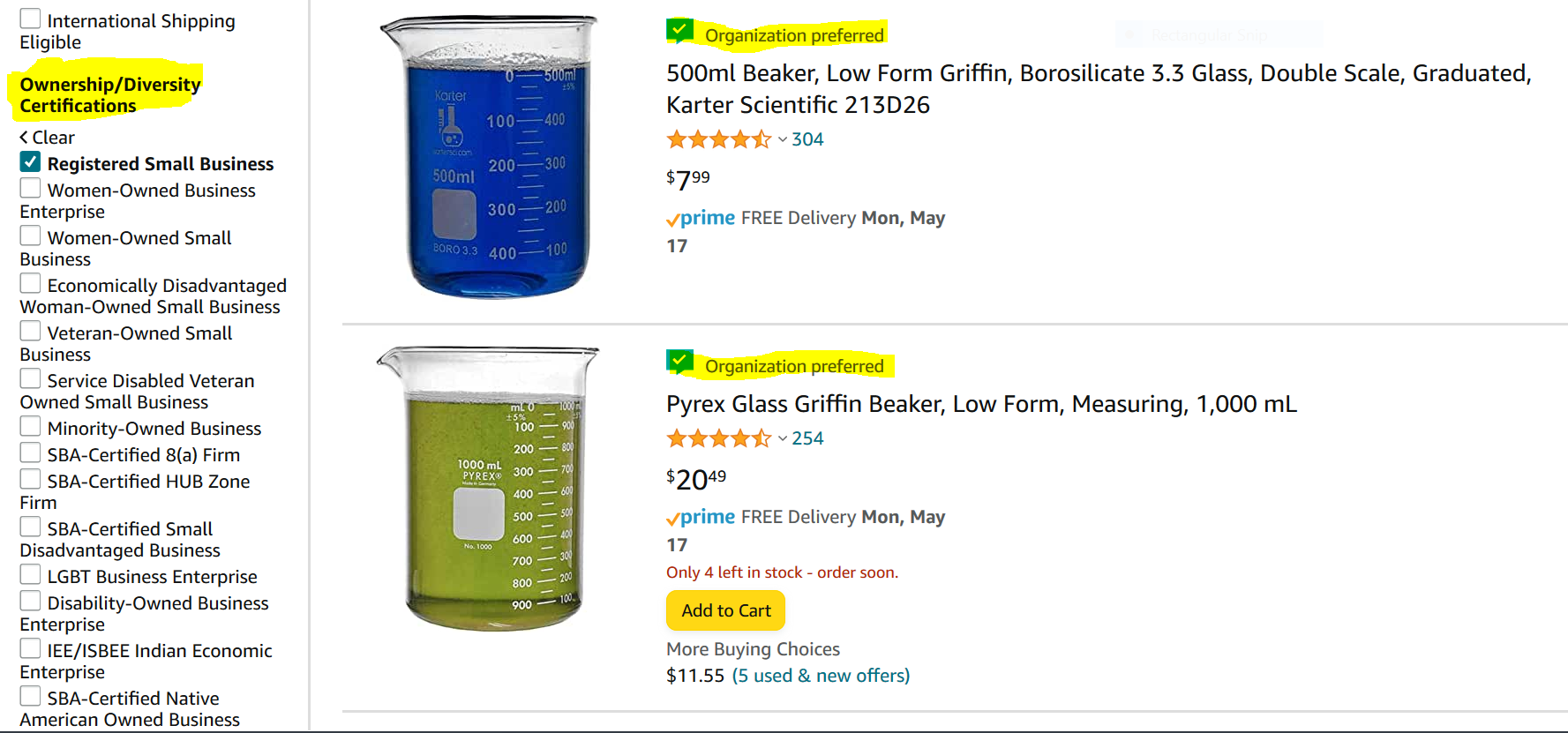 2.  Search for Small and Diverse Businesses in the Kuali Financial System (KFS).  On the Vendor Lookup in KFS, use the Supplier Diversity drop-down field to retrieve the desired results.
3.  Refer to the Small and Diverse Chambers of Commerce when searching for a supplier.
4.  Use the State of California Cal eProcure Lookup. When considering a supplier not in AggieBuy,  the State of California Cal eProcure Lookup can be used to search for certified California small and veteran businesses.
5. Encourage small and diverse businesses to register with UC Davis.  An online Small and Diverse Business Registration form should be completed by a supplier who comprises one or more of the ownership types described.  This will facilitate future UC Davis procurement relationships with the supplier.
---
Funding Requirements to Use Small/Diverse Businesses
Some funds may require the university to purchase from small and diverse businesses.  It is important that you understand and follow the purchasing rules assigned to the type(s) of funds you are using. 
In addition, some state contracts may require the formal consideration of Veteran Owned Businesses. 
Always review the information related to the accounts you are using for a purchase.  Failure to follow the funding source requirements may result in loss of future funding and possible audit findings and/or fines.
---
Small Business Program Officer
Steven Kobayashi is the Small Business Program Officer for UC Davis.  He can be reached at FOA-UD-SSO-SmallBusiness@ou.ad3.ucdavis.edu or 530-754-1372.  Steven can assist with questions regarding the implementation of the program at UC Davis and best practices for supporting small and diverse businesses.