To help the university meet or exceed its sustainability goals,

AggieBuy has been designed to maximize purchasing dollars, while minimizing impact to the environment.
Using the Product Search on the AggieBuy Homepage
When you get the search results, use the Product Flags filter on the left side of the screen to narrow your results to those items that are best for the environment: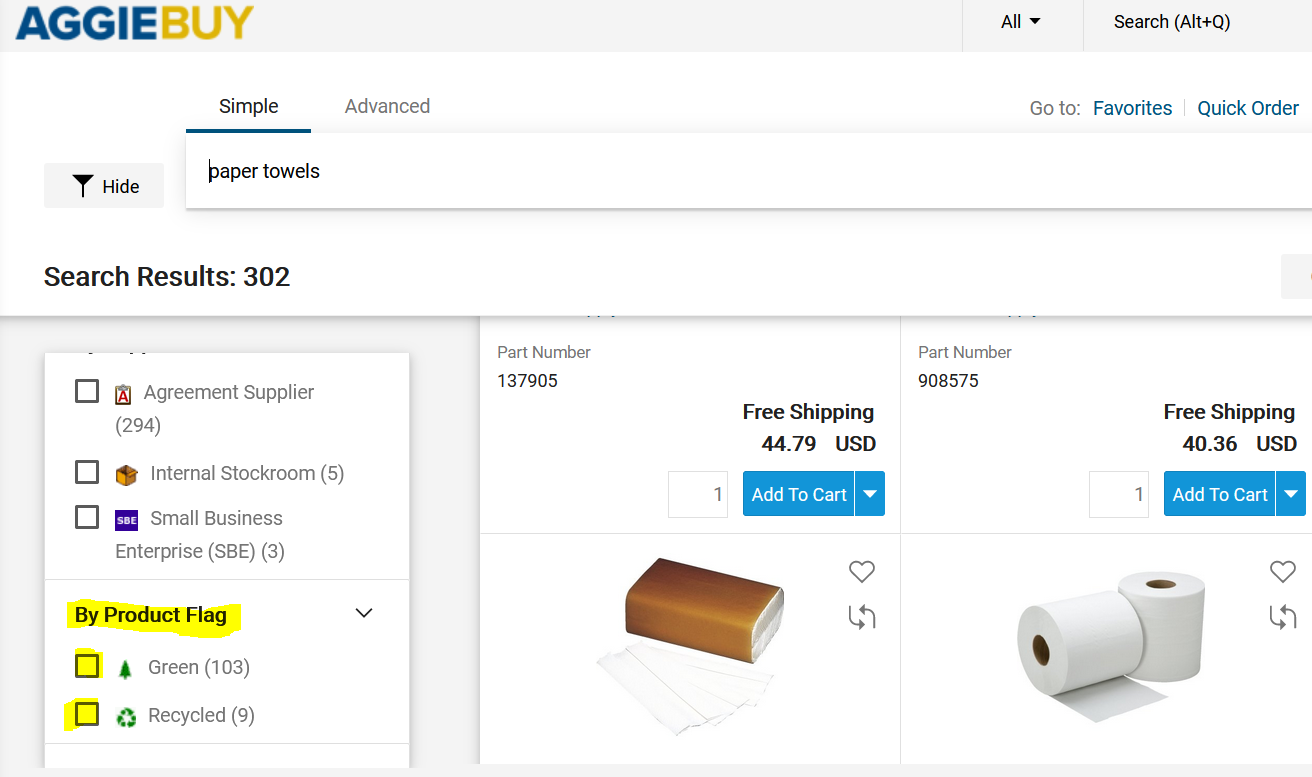 Green (identified with a tree symbol): Includes commodities that are easier on the environment than their equivalent counterparts. For example, the green indicator identifies commodities that have earned the Energy Star designation. These products are usually more energy-efficient and easier on the environment than products without this designation.
Recycled (identified with a chasing arrows symbol): Includes commodities that can be recycled through established recycling programs. This flag is used for any environmentally friendly item - from products used in green chemistry programs to recycled office products.
Save environmentally-preferable items as "favorites" by clicking on the Heart icon.  Or, create a Favorites folder for such items, perhaps with a name like "Environmentally-Preferable Items." This can make it easier for locating these items in the future!
---
Other Suggestions for Sustainable Purchasing in AggieBuy
"Bundle" orders whenever possible. If you currently place three separate orders a week in AggieBuy, consider placing just one order a week. This can significantly reduce the number of shipments and also allows for greater packaging efficiency/more items per package.
Consider non-chemical alternatives whenever possible.
Purchase in bulk when possible.
Please visit our Buying Green page to learn more about sustainable purchasing at UC Davis.
---
Green Event Purchasing
In the Showcases section of AggieBuy, in the Office/Furniture/Giftcards/Other section, there is a Green Events Catalog.  Clicking this tile will take you to a list of sustainable products that can be used when hosting an in-person event.  This catalog will continue to evolve and grow over time, and we are hopeful it will make your planning and purchasing easier for hosting sustainable events!