This page provides instructions on adding home addresses during the COVID-19 pandemic, where many employees are temporarily working from home.
In order to assist our AggieBuy customers who may need to quickly ship to residential delivery addresses at this time, we have temporarily added a new process, giving you the ability to manually enter a new address directly in AggieBuy, without having to first request the address be added through the AggieBuy Help Desk.
This new process should only be used for residential addresses that won't be used long term. If you are going to be adding a new address that will be used on an ongoing basis, please refer to the information on the AggieBuy website on how to add a new address.
Note: Orders to supplier Waxie cannot be delivered to residential addresses.
To enter a residential home address directly in AggieBuy:
1.  While in the order checkout screen, in the Shipping section on the left side of the screen, click on the pencil icon:

2.  On the Edit Shipping screen, type the word home in the search field, and then click on the result that appears above the search field:

3.  Enter the requested information in each of the address fields. Please note that each field is required, except for Room/Ste/Floor, which can be used to identify an apartment or condominium unit/number (if applicable).
State should be entered as two-letter abbreviation (e.g., California = CA)

Zip codes should be 5 digits only

All other fields should be absolutely as short as possible. Keep them under 25 characters.
You will have the option to save this address for future use (click on Add to my addresses checkbox) and/or to save it as your default shipping address on the same screen.  Click on the save button.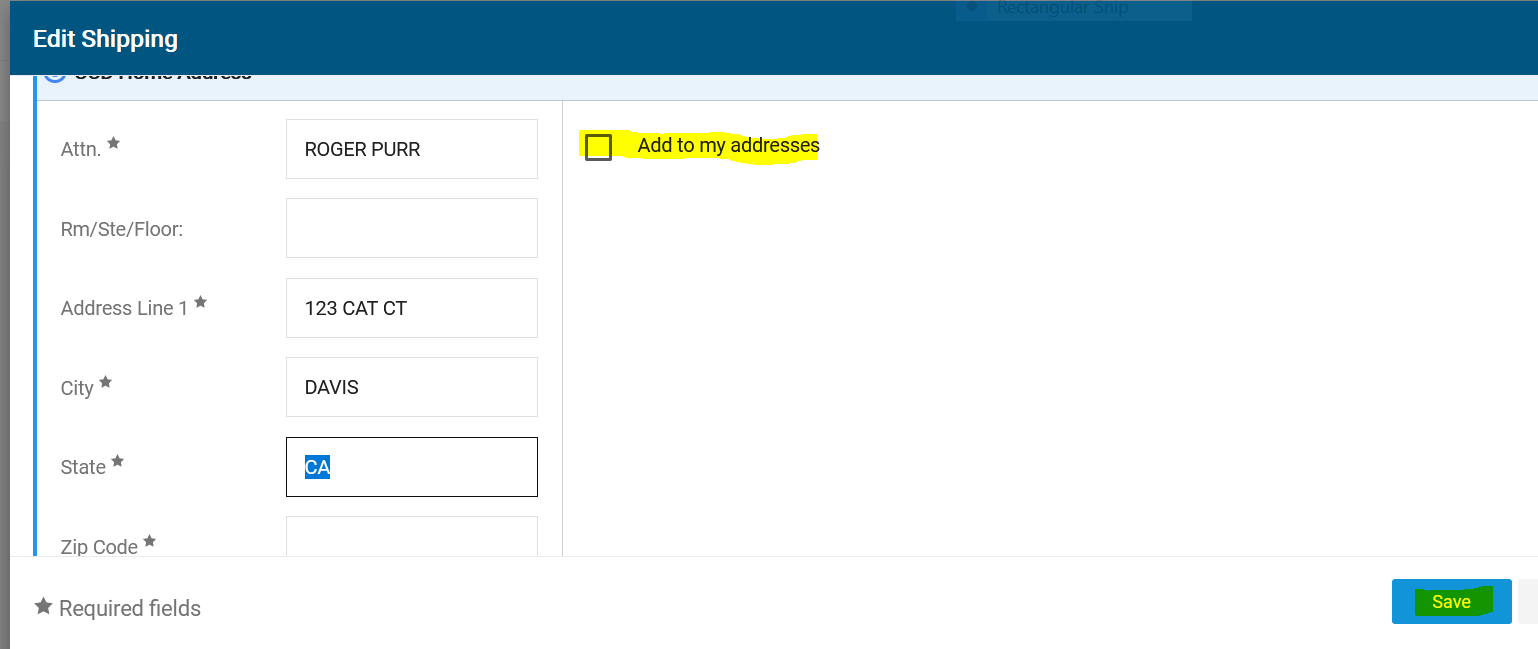 NOTE: The addresses entered through this process will be automatically removed at a later date to be determined.  At that time, the ability to enter new addresses directly will also be inactivated, and the former process will be reinstated.
Fiscal Officers should remember that document approval includes reviewing the shipping address.
Questions should be directed to the AggieBuy Help Desk at ab-help@ucdavis.edu.